Fair and Showrooms
Yes, you can either filter the exhibitors by service at the exhibitor overview, or search for an exhibitor name using the search field.
You can request an appointment in the showroom via the contact button or on site at the exhibitor's booth.
The Lightning Talks are short 15-minute presentations of the exhibitors and take place in the fair hall C2.
The opening hours of the fair are as follows:
Day 1 + 2 of the fair:

Exhibition hours from 9:00 am to 6:00 pm
Exhibitor opening time from 7:30 am to 7:30 pm

Day 3 of the fair:

Exhibition hours from 9:00 am to 4:00 pm
Exhibitor opening time from 7:30 am
Dismantling afterwards until 12:00 am
At the tekom fair, in addition to the regular fair, access to the following offers are included:
ARENA
careerHUB
Impulse lectures
Exhibitor presentations
Access to the online showrooms
Drinks and coffee
At the tekom fair, you will find snacks for a fee.
The exhibitor presentations and lightning talks are part of the tekom fair area. As soon as the program of the exhibitor presentations and lightning talks is created, you will find it under the navigation point Fair and in the conference program.
The exhibitor presentations will take place exclusively on site at the ICS of Messe Stuttgart. Recordings will be made available in the showrooms of the respective exhibitors.
NetworkingLounge
Yes, the tekom NetworkingLounge is used for all conferences organized by tekom. Your contacts and messages will remain available. The tekom NetworkingLounge will also be integrated into 'my tekom'.

Display the list of attendees. Click on the plus symbol to the right of the attendee to be contacted. A message field appears. Complete this and send the request.
Only when the attendee confirms the contact request does he appear in your contact list.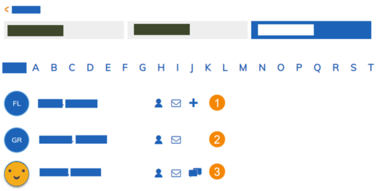 1) No contact request send | 2) Open contact request | 3) Your contact
You can chat only with your contacts. You have sent a contact request to these people, but they have not confirmed the contact yet. This is an open contact request.
In the tekom NetworkingLounge you can make contacts with all conference attendees and exhibition visitors. You network in a similar way to a social networking site (for example, LinkedIn). You can also send messages to your contacts or exchange information via text chat.
Technology Days
The Technology Days are free of charge for all interested people.
You can expect two days of a full program focusing on content processes in the changeover to digitalization. Our exhibitors will present current industry trends and provide you with helpful strategies and tips for implementation in your personal day-to-day work.
Find out more at: Technology Days (tekom.de)