GoToWebinar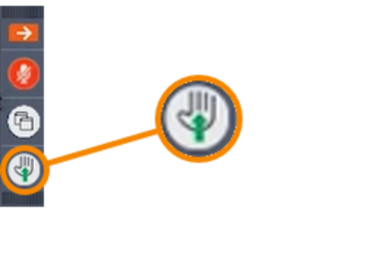 At the top right you will see a bar with a hand symbol. If you click on it, the hand symbol will be displayed next to your name in the list of participants. Only the organizer and the presenter will see the list of participants.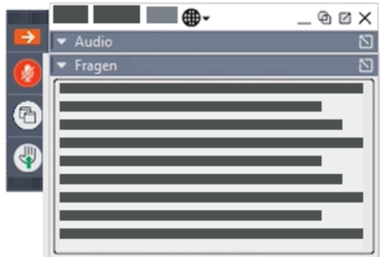 Open the Questions section in the control panel. There you can ask your question. Only the organizer and the presenter can see the questions. If the presenter answers in writing, he can make the answer visible only to you or to all participants.
As a participant you can only contact the moderator.
After the individual event, you will receive a link to a video call. There you can still exchange ideas with other participants and the speaker.
For GoToWebinar you do not need a webcam, because as a participant you cannot start the webcam.
The current system requirements can be found on the manufacturer's page.
Technology and Tool
Yes, you can check your PC in advance.
GoToWebinar – System Check
Test the access using the workstation and PC that you also use for the meeting.
Note the system requirements for participation.
Update the browser you want to use.
Allow cookies from third-party providers.
As a speaker a LAN connection to your router is recommended.
If you have a poor Internet connection, it is best to use a LAN connection to your router.
If you would like to participate in meetups and workshops and exchange ideas at the exhibition and Café tekom, test your audio and video in advance.
Use a headset for interactive event formats, the exhibition and visiting Café tekom.
Check if your PC meets the system requirements.
Test the access to the different virtual rooms in advance. For this purpose, use the workstation and PC that you also use for the meeting.
If necessary, contact your IT department. This is because the firewall in your company network may be blocking virtual room functions.
If you want to limit the domains, you must allow cookies for the following domains:
tekom.de
tekom.org
tekom.12bis3.de
goto domains (Domains from GoToWebinar, GoToMeeting)
You can start all virtual rooms in the browser. It is not necessary to download any file.
1 Mbit/s or more (broadband recommended)
Different spaces are used depending on the format: BigBlueButton, GoToMeeting and GoToWebinar
Conference
BigBlueButton: Video call to the individual events, workshops, yoga
GoToMeeting: Meetups, panel discussions, quiz
GoToWebinar: Technical presentations, partner presentations, tutorials
Exhibition
BigBlueButton: Café tekom, Info desk (entrance hall), showrooms, exhibitors presentations, information desk
Technology Days
GoToWebinar: Sponsored presentations, panel discussion